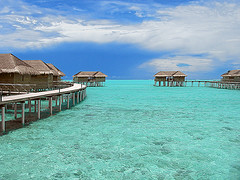 If you haven't had a vacation in a while, I suggest you take a virtual visit to paradise with Ahmed Zahid's amazing photography.
Check out Ahmed's Pictures of Paradise
He's travelling through the Maldives, writing to this photoblog, and publishing his photos to his growing flickr collection.
It's interesting how social media empowers everyone to upload photos and professional photographers can easily publish their work without a middleman. (Such as Shutterpoint, and ImageDisplayworks). Now that I think about it, that would be a great feature for Flickr/Zooomr to add on.
The blue colors in Ahmed's photos really relax me, learn more about him in this interview with him. Ahmed, thanks for helping us escape into your paradise.