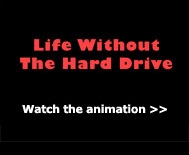 My colleagues at our sister corporation HGST (They make hard drives, HDS sells Storage Solutions) have published this cute animation of what it would be like without the Hardrive.
See the lower right image on this page to watch the animation, or access the video directly here. (No, I did NOT do the voice over for the little kid)
I first saw this video live at the Golden Celebration at the computer History museum with Hu Yoshida. The crowd had a good chuckle with this animation. See all my pics from the party here.
IBM had a clever video one too called the "Rebels with a cause".
Update: I just submitted this story to Digg. There are other animations such as "Perpendicular Recording" on Digg.